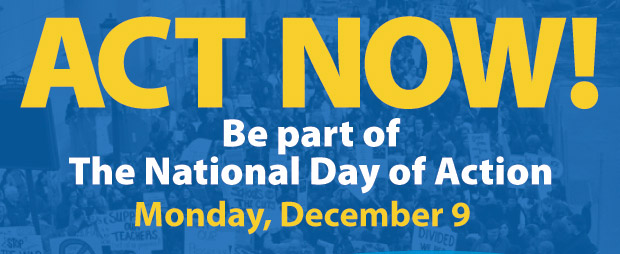 JOIN US ON DECEMBER 9TH FOR THE NATIONAL DAY OF ACTION



Get ready for Monday, December 9 a National Day of Action on behalf of public education! Here's a few things you can do to be a voice in this effort:

Wear blue! Encourage your colleagues, local members and friends to wear blue in support of public education.

Participate in an activity hosted by your local or in the Region! Events are planned in every Region and check the schedule of events on NYSUT.org. Events in Syracuse are at 4:00 PM, Dr. Weeks Elementary School, 710 Hawley Ave, Syracuse, NY.

Sign the open letter to the Regents to make it clear: We demand a three-year moratorium on high-stakes decisions from standardized tests; increased funding for public education from pre-k through graduate school; and an emphasis on teaching, not testing. http://www.nysut.org/dayofactionletter

Share this link with your members and tell them: sign on now, and share it via social media!

Visit NYSUT's Day of Action web page for more information on how to plan a local event and to download a free National Day of Action flier to distribute.

Get Day of Action ideas and resources at:
AFT toolkit and NEA Toolkit http://go.aft.org/edjustice13 and http://www.edvotes.org/ourschools and http://www.reclaimpublicednow.org/

Take pictures and share your photos of activists in action at: dayofaction@nysutmail.org; www.Facebook.com/NYSUTUnited; Twitter: @NYSUT and #reclaimpubliced.
---
Discretionary Awards for 2013
To Eligible UUP Represented Staff:

In accordance with the 2011-2016 Agreement between the State of New York and UUP, eligible UUP represented employees will receive the following one-time, lump sum discretionary payments in their paychecks dated December 18, 2013:

Eligible full-time employees = $306
Eligible part-time employees = $457

Through mutual agreement between Upstate senior leadership and local UUP leadership, it was decided that the distribution of Upstate's separate full and part time discretionary pool allocations from SUNY should be divided equally among eligible recipients campus-wide.

The eligibility criteria includes, but is not limited to, the following:


Those in the Professional Services negotiating unit (NU 08) on 6/30/13 and at time of payment
In a position of 20% FTE or greater and in paid status at time of payment

Attached is additional information from UUP Upstate Medical Chapter President, Michael Lyon, PhD, which will help explain how the discretionary pools were determined resulting in the above discretionary payments to full time ($306/per) and part time ($457/per) staff.

I am pleased to have this opportunity to recognize your contributions to Upstate Medical University. If you have any questions, you may contact Cindy Richmond in Human Resources (richmonc@upstate.edu), or your UUP local office, (315) 422-5028.

Gregory L. Eastwood, MD
Interim President

---
Meetings with Local Legislators
Chapter Meetings w/Local Legislators – Schedule.
All UUPers are welcome and encouraged to attend.

Tuesday, 3 December at 1130: Sen. John DeFrancisco, District 50, State Ofc Bldg., 333 E. Washington St., Rm. 800, Syracuse

Wednesday, 4 December at 1000: Assemblyman Sam Roberts, District 128, 711 E. Genesee St., Syracuse

Thursday, 19 December at 5:00 pm: Rep. Dan Maffei, NY - 24, U.S. Courthouse & Federal Bldg., 100 S. Clinton St, Syracuse

---
UUP / Human Resources Committee news



Currently Nominated Active UUPers:
College Review Panel
Committee on Professional Evaluation
Diane Conklin
Susan Campanaro
Lydia Kaufman
Diane Conklin
Joyce Freeman
Joyce Freeman
Colin Massulik
Charlene Hubbell
Kimberly L. Moore
Colin Massulik
Carole Ozark
Kimberly L. Moore
Carl Pettengill
Carl Pettengill
Krystal Smith
Matthew Taylor
Debra Tafel
Martin A. Toper

Nominations are in. The ballots will be arriving shortly. If a name is not on the ballot, you can still vote for active professionals with write-in votes. All Write in votes will be accepted. The first in voting will be designated as winners, the remainder will be considered alternates for the term of the committees.
---
---
Upstate Emergency Fund
A new program, The Upstate Employee and Student Emergency Fund, designed to provide emergency financial assistance to employees and students of Upstate Medical University who suffer sudden, non-recurring, unplanned economic hardship due to accident, illness, loss or disaster, such as: family crisis, fire, acute illness or natural disaster has been created and is available immediately. This project was made possible through the hard work of a 2012 Upstate Leadership Academy capstone group consisting of Valerie Beecher of Human Resources, Jessica Hrybinczak of Student Affairs, and Lisa Phelan of the College of Medicine. Initial start-up funding for the program was generously provided by the Foundation for Upstate and the Office of the President. Please consider supporting this fund in your upcoming Community Giving Campaign contribution.

Additional information regarding the fund is available by visiting the Upstate Employee and Student Emergency Fund website or by emailing emergencyfund@upstate.edu, or contacting the following program representatives:

Sarah-Lee Ritchie, Employee Assistance Program at x 464-5760,
Jennifer Welch, Student Affairs at x 464-4816 or
Renae Rokicki, Office of the President at x 464-1683
---
The Advisor August 2013 Edition [in color]

Click here for the latest digital edition of The Advisor. In this issue: Carol Braund Retirement, Statewide Journalism Award winners, Downtown Campus Annual Meeting with full color photos, plus much more.



---
Looking to Volunteer for UUP?

Our chapter is looking for some motivated individuals to help our efforts. If you are interested in volunteering, let us know and we'll see where you will make a good fit.
---

Individual Development Awards

NYS/UUP Joint Labor-Management are assiting UUP members in "developing their full potential and and in preparing for advancement". This means that we will help UUPers with tuition and educational expenses that you feel will help your career at Upstate. Please note that awards have a maximum of $1000 and cannot be used to purchase equipment. Click here for more information about applying for an award. For more information, visit the NYS/UUP Joint Labor-Management Committee's website. Deadline for applications is December 20, 2013 and must be mailed to the Chapter office.

For more information regarding this and many other benefits of being a member of UUP, visit www.uupinfo.org/benefits.